Rural and regional Internet connections have come a long way since they first reached the bush. But that doesn't mean they've levelled-up enough for you to be playing Esports with the major-leagues.
Standing between you and your desire to be the ultimate game master is the distance between the Earth and the satellites (there are only two in Australia) fuelling your Internet connection. ­­­­­
Those satellites powering Sky Muster™ Internet connections across rural and regional Australia are almost 36,000 kilometres above the Earth.
Every time you take an action on the Internet and get a response, the signal from your computer needs to make its way across that 36,000 kilometres into space and back again, twice.
It's a hell of a long way to go on a round trip into space and back twice, but it still only takes the signal 600 milliseconds (0.6 seconds)! That might not seem like a long time until you're trying to compete in a fast-paced Massively Multiplayer Online (MMO) game like World of Warcraft or Counter-Strike: Global Offensive.
Internet gaming over a satellite connection can be a lot of fun, or a total disaster, depending on the game you're playing and how you're set up to play.

This guide will help you master online gaming with your Sky Muster™ connection by:

clearing up what works, what doesn't, and why

giving you some tips on optimising your set-up for the best gaming experience

offering up a few favourite games from the SkyMesh crew that will actually work well over a Sky Muster™ satellite internet connection.
---
Index
---
Let's get started
What devices/equipment do most people use for online gaming?
These days, gaming happens across a wide variety of devices including PC, mobile, gaming consoles, tablets or other handheld devices.
A recent study by Interactive Games & Entertainment Association (IGEA) showed that 72 per cent of all Australian households have more than one gaming device.
For Australians who've chosen gaming consoles rather than PC or mobile, the following seem to be the clear favourites:
Image source: Denys Prykhodov – stock.adobe.com
Apple
If you're the kind of gamer who likes to hang out on your mobile or tablet, you may be interested in the recently launched Apple Arcade.
The latest offering from Apple gives you access through the Apple Store to a subscription of more than 100 games without in-app purchases or advertisements.
You can also download these Apple Arcade games and play them offline. This way, you're saving precious Sky Muster™ data and removing the issue of latency that comes with satellite Internet gaming.
It's also pretty awesome that you can start playing your Apple Arcade game on your iPhone and pick it up later on your iPad or MacBook.
Image source: OceanProd – stock.adobe.com
Android
If you're more of an Android user when it comes to handheld devices, you'll find plenty of games to play in the Google Play Store.
The Google Play Store is stocked with all sorts of games, including the sort you can play without an Internet connection after you download it the first time (just like Apple Arcade).
Obviously, when satellite is your Internet tech, you'll have a much-improved gaming experience if you don't have to worry about the inherent latency issue.
PC
If you're a really serious gamer, you're likely to have all the bells and whistles on a suped-up PC. The custom building of gaming PCs is a lucrative business. And, a custom PC can set you back thousands of dollars depending on which particular bells and whistles you want/need for your particular gaming preferences.
There are specialists all over the country to help you get the equipment you need. A Google search for custom gaming PCs will help you find them in your state.
Imagine never running out of data for online gaming. 

No matter what device you use for gaming, data availability is a massive barrier for rural gamers.

The solution has finally arrived however, with nbn co's exciting revamp of Sky Muster™ Plus.

On the brand-new Sky Muster™ Plus plans, you get unmetered data for everything except video streaming and VPNs.

And guess what that means? More than enough data is now available for downloading, updating and playing games online.

So, if you're currently on a regular Sky Muster™ plan, chewing through all your data, maybe check it out.

*NOTE: While data use is unmetered for gaming, speeds will slow during peak usage hours of 4 – 11pm as determined by nbn co. Fair Use Policy still applies.
Game downloads, updates and play data
How much data does it take to get set-up for online gaming?
On Sky Muster™, the sheer size of game downloads and updates are a trap for the unwary.
Just setting up a new console for the first time has the potential to wipe out your monthly Sky Muster™ satellite Internet data allocation and then some.
Take the Xbox One X, for example. Depending on the games you want to play, setting up a new Xbox One X and downloading your new game/s could see you needing 100 – 200GB of data.
Most individual updates to an Xbox are about 5GB. For other consoles or a PC, the updates can get up to 15GB.
Then games and their updates could be anywhere from 30GB all the way up to 100GB!
So, depending on how many updates and what game/s you want, this could all get out of hand very quickly if you don't manage it right.
And these sizes are not unique to Xbox.
It's not unusual for games on any device or computer to be 30 – 100GB in size. While it will be different from device to device, it remains an enormous strain on your data usage.
And remember, all of this data consumption has happened before you've even started to play!
The answer to your gaming data worries may be found in the updated Sky Muster™ Plus we mentioned above. While latency will remain an unavoidable problem for satellite Internet gamers, the nbn co release of updates to Sky Muster™ Plus in April 2020 IS an absolute win in the data stakes.
How much data is used playing a game online?
Well, that depends on the game, but MMO games will definitely be the worst offenders in the data-consumption stakes.
Game Gavel has a fantastic table on their website (which we've included below) showing how much data per hour is used in online gaming by some of the most popular games.
Approximate data usage for popular games
| Game | Data Usage Per Hour |
| --- | --- |
| Fortnite | 100MB |
| PlayerUnknown's Battleground (PUBG) | 40MB |
| Apex Legends | 100-150MB |
| Overwatch | 135MB |
| League of Legends | 45MB |
| Dota 2 | 120MB |
| World of Warcraft | 40MB |
| Grand Theft Auto V (GTA V) | 60MB |
| Destiny 2 | 100MB |
Data source: gamegavel.com
For many people on a Sky Muster™ connection, all this set-up and gameplay could represent more than their entire monthly Anytime data allowance.
The entry-level SkyMesh Sky Muster™ plan sits at 10GB Anytime Data and 40GB Off-Peak for $39.95 per month.
This is not the ideal plan for you if you want to game online regularly.
However, if you're currently on this plan, you could consider upgrading for one month, so you have the data you need for a game download/update.
Just log into your SkyMesh account online, navigate to 'services', click 'change plan' and follow the prompts. When your plan returns to normal, you'll still be okay with your original plan if you play your game offline from that point.
SkyMesh online account example
Even those on the most popular SkyMesh Sky Muster™ plan would struggle to manage the larger game downloads. The upside, however, is that they do have a good amount of Off-Peak data so you can schedule your downloads for overnight.
That popular plan we're talking about is the $49.95 per month option. It gives you 185GB of data in total, broken up by 45GB of Anytime Data and 140GB of Off-Peak data.
You would definitely want to use your Off-Peak Data to set-up a new console and/or download and update games.
With this plan, there are plenty of friendly small-sized games for you to download, update and play if you know what you're looking for. We've popped some suggestions below.
You could also trial Sky Muster™ Plus with the unmetered data that now includes online gaming. You will experience a bit of speed slowing between 4pm and 11pm but the data provision is a mega gain.
We strongly encourage you to get the most out of your satellite service by considering Sky Muster™ Plus and choosing games that will work well for your situation. We have provided plenty of examples below to help guide you.
Finding data-friendly downloads, updates and gameplay
By now you have a clear picture that online gaming could give you a nasty data shock if you're on a Sky Muster™ connection and not paying attention upfront.
However, there are many data-friendly games out there if you know where to look and how to manage your monthly data quota.
For example, you only need 8GB of available data to download Civilization VI, and if you use Steam to schedule the download during your Off-Peak period, you're laughing; there's always plenty of Off-Peak data to spare.
The first time you play Civilisation VI, you will need an Internet connection, but after that, you can play it entirely offline. Expansions are often around the 4GB mark.
Image source: www.instagram.com/civgame
Rogue-Like games can be incredibly data-friendly with download sizes as small as 200MB.
A great example is Terraria which is a cute little game with enormously positive reviews.
Again, once you've downloaded this game, you do not need an Internet connection to play it. You can play it on your phone, desktop or console of choice which is neat.
Old School Runescape is another fun low-data usage game. It only needs 23MB of data if you're on a Windows-based machine or 2.5MB on a Mac. It's 115.2MB on your iOS mobile device and 5.8MB on your Android mobile device.
Then there's the show-no-mercy, use-all-your-data, games
At the other end of the scale are the likes of Divinity Original Sin 2 which takes 60GB, Grand Theft Auto V at about 72GB, or The Elder Scrolls which takes 85GB.
The more intense the graphics and audio are within a game, the higher the download is likely to be.
A lot of these massive download games are also pushing the envelope when it comes to input-lag for online gameplay.
Further down we offer some tips for how to minimise that input-lag on a PC. These setting options don't apply to other gaming consoles which are already geared towards their best performance.
You'll also find a much better experience with these game types if you upgrade to one of the brand-new Sky Muster™ Plus plans.
What's fit ­– and what's not – for Sky Muster™ satellite Internet gaming
What game genres work well on Sky Muster™ satellite Internet
Rogue-Like/Lite games
Rogue-Like and Rogue-Lite games are a sub-genre of RPG.
Rogue launched in 1980 and provided the origin of these games.
They follow more or less the same guidelines in that they're usually based on a high-fantasy narrative, include a dungeon crawl through computer-generated levels, turn-based gameplay, tile-based graphics, and permanent death of the player's character.
Rogue-Like/Lite games to play on satellite Internet:
Rogue-like game inspired image
Indie games
This game genre gets its name from the shortening of the words: Independent games.
They're created by one person, or maybe a small group of people, rather than by mega-companies like Activision Blizzard, Sony Computer Entertainment, Ubisoft or Nintendo.
These games tend to be low-tech and in turn, they tend to be low on the data usage side of things.
Indie games to play on satellite Internet:
Indie game inspired image
What games need workarounds on a Sky Muster™ satellite Internet connection
RPG (role-playing games)
A role-playing game is one that allows you to become an imaginary character and go on an adventure through some sort of fantastical setting.
There are some fiercely popular versions of this game style which you can enjoy offline in single-player mode without chewing up any of your data.
On Sky Muster™, the key is to download the game during your Off-Peak hours, so you're not wasting your precious Anytime Data.
Alternatively, upgrading to one of the new Sky Muster™ Plus plans to get all the data you need.
RPG games to play on a Sky Muster™ satellite Internet connection:
*Remember – use the single-player versions offline and check the download size first
Image source: USM Photography – stock.adobe.com
Strategy games
These games are for the skilful thinkers out there.
To achieve victory in a strategy game, you need to be calculated, tactical and shrewd about how you approach the challenge before you.
There are two types of strategy games:
1. Turn-based strategy games (TBS)

This is the best sort of strategy game to play on a satellite connection because latency is not a big deal.
In this style of game, you've got plenty of time to consider your moves without having to worry about what your opponent is up to at the same time.
You take a turn.
Then your opponent takes a turn.
All is fair in love and turn-based strategy games.
Chess is a great example of turn-based online games that work well on Sky Muster
2. Real-time strategy games (RTS)
When you play RTS games online, everything is happening live, and you have to be able to react quickly.
Sadly, these sorts of games rarely work super well over a satellite Internet connection. The latency experienced slows everything down as the signal travels to space and back (and remember, this happens twice every time you take an action on the Internet and then get a response).
Some RTS games can be played in offline single-player format or against a bot, in which case you wouldn't experience a delay.
It's worth checking whether the RTS game you're interested in can be played offline.
Strategy games to play on a Sky Muster™ satellite Internet connection:
*Remember – use the single-player versions offline and check the download size first
Age of Empires inspired image
Massively Multiplayer Online games (MMO)
These games have extraordinary numbers of players at any one time, and those players are usually working together to take over a fictional world.
You will find that MMO games span many genres, and as long as you focus on old school tech versions, you'll likely have no issue with playing them on Sky Muster™ satellite plans.
The old school tech versions are an exception to the rule around avoiding RTS games.
MMO games will be okay if they're turn-based, but if they're heavily graphics-based or require twitch gameplay, you'll get pretty frustrated pretty quick.
MMO games to play on Sky Muster™ satellite Internet:
Old School Runescape is the return to the classic version of the popular Runescape game.
The minimal data usage and small download requirement spell out good news for Sky Muster™ satellite users.
With a vibrant cross-platform community on both PC and mobile, Old School Runescape can be enjoyed in front of your computer or on the lounge with on your mobile and your Sky Muster™ satellite connection.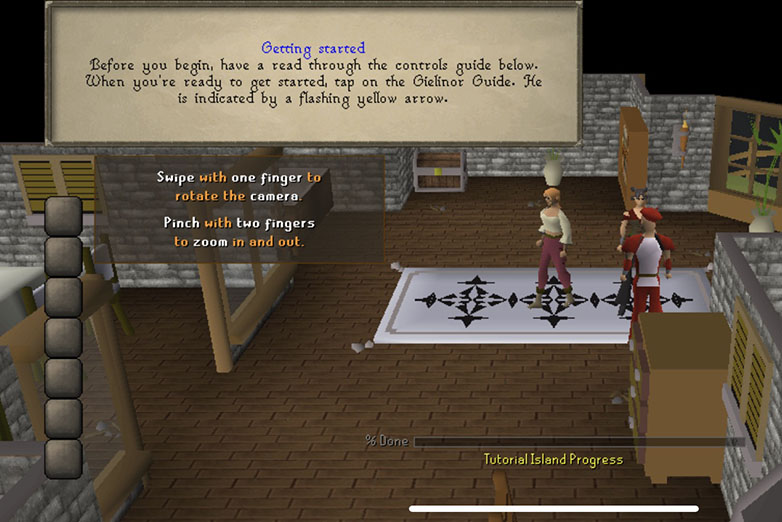 Screenshot from Old School Runescape
What games are an absolute no, no on a satellite Internet connection of any kind
First-person shooter games online (Just don't!)
Well, you can… but it might not work out so well for you. Be prepared for serious lag and not knowing whether you hit your target for a few seconds after you've pulled the trigger.
Yeah, you should avoid these sorts of first-person shooter (FPS) games for a satellite Internet connection:
In saying all of that about FPS games online, some games have offline campaigns or bot modes that you might really enjoy.
For example, a lot of games in the Call of Duty franchise have a single-player zombie mode that is pretty fun to play offline.
Image source: sitthiphong – stock.adobe.com
Settings tips for satellite Internet gaming on PC
While you will never remove the high lag factor from your satellite Internet gaming experience, you may be able to improve it by tweaking a few settings on your computer and/or within your game.
Here are a few of the suggestions we've got top of mind for PC gamers:
Low-latency graphics scaling
Downgrading your graphics settings can help with some lag.
In 2019, Nvidia launched their Gamescom Game Ready Driver which includes an ultra-low latency option and 'just in time' frame scheduling.
Its competitor is the AMD Radeon Anti-Lag which is also designed to help reduce input-lag by keeping the CPU from getting too excited and running ahead of the GPU.
It's worth checking out the manufacturer's sites for the specifics on both of these products.
Get on board with Game Mode
Monitors and TVs also have a game mode which will help reduce that nasty input-lag. You might need to experiment a little depending on your set-up.
If you're gaming from a PC, Windows 10 already offers better game performance and faster frame rates, but Game Mode is an extra special optimisation setting to speed things up.
Get an SSD for your PC
If you're serious, the expense of an SSD could be worth it to reduce your game load times.
Turns out, this wee little bit of hardware can get your game load time down to 2-3 seconds. This accounts for some of your computer's lag – not for the Internet lag – but it's still a helpful functionality.
Turn off all the unnecessary Windows 10 visual effects settings
Navigate to the Performance Options in your computer's settings and untick all the unnecessary visual effects.
Make sure you tick the 'adjust for best performance' option and then navigate to the 'Advanced' tab to ensure the settings are applied to all programs.
Windows visual effects settings options
Change your frame rate
Your frame rate is referred to as Frames Per Second (FPS) and should be set to hover between 60 and 144.
It's a delicate balance between having your FPS too low and ending-up with stuttering scenes that don't render well at all or having your FPS too high and slowing down your game to unplayable.
Get rid of anti-aliasing
Anti-aliasing is the functionality that smooths out all the jagged edges of your graphics, removing all the pixelation.
The problem is that this functionality slows down your computer and in turn, slows down your game.
Turn it off to speed things up a bit.
This article from PC Gamer has some other really great in-depth tips that will help as well.
How to choose the right satellite Internet plan for you
If nbn co has decided your property is in a satellite technology area, you're going to need to decide between Sky Muster™ and Sky Muster™ Plus.
It's likely to all come down to how much data you plan on using and how you're going to use it.
Online gaming is a data-hungry beast and if it's your passion, you may want to look closely at new brand-new Sky Muster™ Plus with its unmetered data offering.
Key takeaways
Now that's a lot of information to digest; we know!
So, we've made that mega meal more bite-size for you with our top 6 key takeaways.
If nothing else sticks with you from all this information, we hope you'll keep these top-of-mind.
Consider the brand-new Sky Muster™ Plus for its available gaming data if you're a really passionate gamer
Satellite Internet is not the optimal set-up for online gaming, but it can be done
Single-player mode is the best option
Optimise your settings where possible
Monitor your data usage on Sky Muster™ plans and buy physical copies of your games if possible.
Not already on Sky Muster™ Plus? Click the button below to check out our plans.
Hear what Simon says
Simon and Emily are avid gamers who moved to rural Queensland to take a break from city life. They use a SkyMesh Sky Muster Plus connection to do what they love and have shared their experience with us.
It's worth taking a short break from life to watch this video and hear what they say about what works on Sky Muster Plus for gaming.
[WATCH: 1min 32secs]
Key definitions
Admin:
An admin is the wizard behind the curtain who has a ton more control than the average citizen in a gaming community. Among other things, they can ban players and kick you off their server if you're slowing down the gameplay.
Anti-aliasing:
This is a setting that many games have to smooth out curves and jagged lines in images (kinda like shapewear for graphics).
There's a great article on Lifewire that gives you a lot more detail on the various anti-aliasing options and how they work. You can read that here.
Anytime data:
Anytime data is a SkyMesh offering for Sky Muster™ customers that takes peak data allowances to a whole new level. You can use your Anytime data around the clock, giving you an extra bit of flexibility in how you manage your data usage.
Arena:
A type of video gameplay in which teams of players compete in a specific area or sub-game, or the place in a game where 'arena' play takes place. These settings will show up in MMO games and are real-time strategy situations which are not ideal for satellite Internet connections.
Avatar:
An avatar is a graphical representation of you in your game.
It's your gaming character.
The options for how this character will look and the special features they have will depend on the game you're playing. You could have anything from a human character through to some sort of magically fantastical creature.
An avatar is your online gaming character
Boss:
These non-player characters (NPCs) are your gaming tough guys! They're a brute of an enemy, challenging to beat, and you'll usually come up against them at the end of a level.
Think Diablo from the Diablo game series.
Bot:
Bot is quite literally short for 'robot'.
In gaming terms, bots show up as replacements for humans during the gameplay and are computer-controlled characters, also known as non-player characters (NPC).
Unscrupulous players may also create their own to try to cheat the game. Not cool, people!
Casual gamer:
Sometimes also called filthy casual or filthy cash (pronounced: caz-sh)
These are your easy-going gamers who dip in and out of gaming on a purely social, non-competitive basis. Hard-core gamers tolerate these folks but are not huge fans of the non-committal attitude.
Clan:
A clan is precisely what it sounds like – it's a sort of online family.  These people are your team. As part of your clan, you will fight other clans.
This is widespread terminology in first-person shooter games.
CPU:
CPU is the quick way of referencing your computer's Central Processing Unit, which is great I hear you saying, but what does it do? It's essentially the brains of your computer, making all the big decisions and calculations.
Dungeon crawl:
Frequently found in role-playing games, the dungeon crawl is a fantasy scenario where you become the game hero by facing monsters, solving puzzles, finding loot, exploring mazes and generally overcoming bad-guys and hurdles.
First-person-shooter (FPS):
If you're playing a first-person shooter game, you'll view the game through your character's eyes as you wander the 3D environment literally shooting things up.
First-person shooter gamer
Frames-per-second (also FPS):
When gamers talk about frames-per-second, they're referring to the frame rate or the pace at which images appear on your screen.
This becomes important when you're trying to find the balance between the quality of your graphics on screen and the speed of your game.
A high FPS is going to slow your game down, and this is not going to do you any favours if you're playing on a satellite connection.
Did you check out the tips for managing this further-up in the guide?
GOG Galaxy:
GOG Galaxy is the platform from GOG.com where you can buy, play and chat about games online.
Check it out here.
In case you were wondering, GOG is shorthand for Good Old Games which is exactly what you'll get from them.
There're some tremendous single-player games here which are better choices for satellite Internet connections than multiplayer games.
GPU:
Not to be confused with the CPU, the GPU is your computer's Graphics Processing Unit and is responsible for how images, animations and videos appear on your screen.
Guild:
See Clan above.
Indie games:
This game genre gets its name from the shortening of the words: Independent games.
They're usually created by one person, or maybe a small group of people, rather than the mega-companies like Activision Blizzard, Sony Computer Entertainment, Ubisoft or Nintendo.
Input-lag:
Input-lag is the computer delay between pressing a button or clicking a mouse and the response happening on your screen.
There are ways you can reduce your input-lag, and we've compiled some tips further up in this guide.
Lag:
Lag and latency are precisely the same thing. See latency below for more information.
Latency:
Here we're talking about the length of time it takes for the signal to go from your computer while you're gaming, all the way from Earth to the Sky Muster™ satellite and back… twice.
It has an uncanny knack for ruining your gaming experience and that of your mates.
The unavoidable latency that comes with satellite Internet usage is the exact reason we encourage gamers to play turn-based games, single-player games, or to take their game offline.
MMO games and any online games requiring a fast response are really not okay on satellite.
Launcher:
A launcher is a one-stop-shop spot for your online games.
You can download them and play them from there, chat with others in your gaming community and be kept abreast of the latest updates.
Popular online game launchers include Steam, GOG Galaxy and Battle.net (Blizzard).
Level-up:
Take your gaming experience to the next level by going up a level in the game or advancing your character's development.
Level-up can also be used in reference to ramping-up/improving your effort and skill.

Massively Multiplayer Online game (MMO):
This quite literally means that a massive amount of people are playing this game at any given point in time.
For example, at the time I was writing this article, there were 286,351 people online playing DOTA 2 and 256,638 playing Counter-Strike: Global Offensive, according to Steam.
Metered data:
Metered data relates to the amount of data you use each month that is counted/monitored/metered by your ISP/RSP to help ensure you don't go over your data allowance.
The flipside of this is unmetered data which is not counted towards your monthly data allowance. It usually applies to specific categories of usage though. With the new Sky Muster™ Plus product, everything is unmetered except for video streaming, VPN usage and any content that nbn co can't categorise.
Noob:
A variant of 'newbie' that has been completely bastardised by the gaming community so they can taunt each other during FPS games.
It can also be seen written n00b, noob, or newb.
'Newbie' is, in fact, a genuine friendly description of a player new to a game.
'Noob' however, is an insult. Gamers will deem another player a noob if they've been playing a long time but don't particularly play well.
True side story: My online gaming husband and his brother refer to each other as 'noobcake' to be occasionally condescending and annoying but in a playful way. Noobcake is also the same as noob; however, these two humans have carved it out as their own term of endearment. Go figure.

NPC:
This refers to non-player characters. These computer-controlled characters appear in games to help advance the game's plot. The ghosts in Pac-Man are probably one of the most famous NPCs of all time.
Off-Peak Hours:
Off-Peak hours at SkyMesh are between:
This is the time when the least number of people are online.
You'll notice that some SkyMesh nbn™ plans offer you Anytime data, as well as a larger amount of Off-Peak data each month.
Ping:
See lag and latency. Ping is just another word for these terms.
Real-Time Strategy (RTS) games:
These games are strategy-based and happen in (you guessed it) real-time.
Instead of waiting for your opponent to take their turn before annihilating them with your gaming prowess, you take live actions against each other.
This is not an ideal situation for the latency-prone satellite Internet connection. Turn-based strategy games are a far better option.
Rogue-Like or Rogue-Lite games:
Rogue-Like and Rogue-Lite games are a sub-genre of RPG.
They're based on really old technology and graphics like you will have seen in the 1980s game from which this genre got its name: Rogue.
Pac-Man is probably one of the most famous Rogue-Like games.
We have some fabulous suggestions for this style of game up further in this article.
Illustration of a typical 80s pixel space arcade game
Role-Playing-Games (RPG):
This genre of games is an excellent piece of escapism.
In an RPG, you take on the fictional life of an imaginary character to achieve some sort of magnificent quest.
Take a look further back in this article for some of our top pics in this gaming genre.
Just remember to play off-line versions and check the download size before you hit the button to buy.
Shaping:
So instead of cutting your Internet connection off completely when you bust out of your data allowance, your ISP/RSP will shape your access (aka: shaping).
This means you still technically have Internet access, but it's going to be pretty slow, and that's going to limit the things you can do online.
Simulation:
Simulation games are designed to closely mimic real-life situations.
The imitation of real-life activities allows you to learn how to do certain things, or to just have fun carrying out activities you wouldn't otherwise have the opportunity to try. It could be anything from driving a tractor to flying a plane.
SSD:
SSD is short for solid-state drive. It's a mass storage device similar to a hard disk drive. They don't have any moving parts, so they're a lot more stable than a hard disk drive while serving the same purpose.
Steam:
Steam is a web-based one-stop-shop launcher for gaming enthusiasts. It hosts thousands of games and downloadable content as well as discussion forums across all genres of online games.
Image source: store.steampowered.com screenshot
Tile-based graphics:
Tile-based graphics are those you see in the old school 80s style games where all the graphics are made up of lots of little boxes, and the game appears in grids.
Triple A (AAA) games:
These games are high-budget and high-promo games like Star Wars Jedi: Fallen Order, The Outer Worlds, or Call of Duty: Modern Warfare.
Turn-Based Games:
Mumma always said it was polite to take turns and this sort of game gives much credence to that teaching.
Games like the original FallOut, and Civilization VI, rank among the best turn-based games of all time.
Twitch gameplay:
If you're like the American actor, director and comedian, Woody Allen ­– who once declared his reflexes were so bad that he'd been run over by a car being pushed by two guys – then twitch gameplay is probably not for you.
These games are all about your response times and for that, you need lightning-fast reflexes.
Sorry Woody, you're going to have to sit this one out!
If you're super keen to check out a good example of this game style, try Rainbow Six Siege.
Unmetered data:
Unmetered data is not counted towards your monthly data allowance. It usually applies to specific categories of usage though. With the new Sky Muster™ Plus product, everything is unmetered except for video streaming, VPN usage and any content that nbn co can't categorise.
Imagine never running out of data for online gaming. Find the right plan for you.
REIMAGINE RURAL GAMING